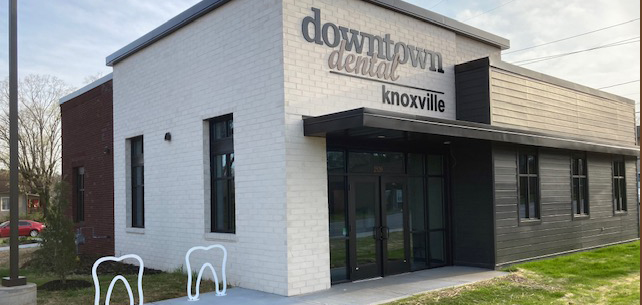 Testimonials
What our Patients are Saying
The best experience I've had all around at a dentist office. I didn't have to wait even though they were busy. Reception was so helpful. The dental assistant was awesome. Most of all I was thoroughly impressed by Dr Hickey. She was genuinely friendly, and explained every step through the filling process. It was over so quick also. Before any work was done I was explained my options and PRICING up front without even asking. I give them ten gold stars.
The best experience I've had at a dentist office. Dr. Hickey is amazing. She was telling me what she was doing throughout the process. Usually the dentist office isn't an enjoyable experience, but here it was actually pleasant. Thank you to the staff at Downtown Dental!
The best dentist I have ever visited! I have been going to Downtown Dental for a few years now and they are amazing. Dr. Hickey makes you feel very comfortable and Monica is a great hygienist. Very professional, great, caring staff.
On my first visit to Dr. Hickey, she told me that fixing the teeth was no problem and she put me completely at ease. I have severe dental anxiety, so having a caring understanding person telling me that my problem would be fixed and would be better than before was reassuring.
I couldn't have imagined how much better my teeth could look. Honestly, I cried on my way home from my final appointment. My teeth look better than they did when I got my braces off 20 years ago! Words can't express the change you've made in me. I hated having my picture taken and hated smiling… but now I am constantly smiling as big as my mouth will allow!!!
Thank you guys so very much!!! And, I have already referred several people to your office, because I can't say enough good things. Sending so much love and appreciation, see you guys soon for a cleaning.
I have always had a fear of the dentist due to an inability to be completely numbed when I was younger. Consequently I have searched to find a dentist that would be gentle, kind and look out for the patient. I had a previous negative experience with another dentist in Knoxville, so I decided to look for a change. I scoured through the providers on my insurance list, searching for a female dentist in particular. That is where I came across Downtown Dental the office of Dr. Hic…key. Of course my nerves were shot, but from the moment you walk through the door, there is an air of warmth and kindness. This particular appointment was for a cleaning. I cannot begin to express how AMAZING the hygienist Sandy was! I have NEVER had a pleasant experience at this dentist until meeting this staff. Sandy was like an old friend! She made me feel completely comfortable, cared for, was professional and informative, all while making me feel positive about improving my dental health! My teeth and gums after she finished felt AMAZING!! I immediately knew there was improvement and it showed. What my prior dentist said was periodontal disease, turned out to just be irritated gums from their ineffectual cleaning.
Then Dr. Hickey came in. She was so kind and gentle. She actually listened to my concerns and came up with a plan that would address my needs and not require a second mortgage on my house! I cannot express my gratitude to the staff there! I can say without a doubt anyone looking for an incredible dental office(especially if you're a fearful patient like me)run, do not walk to set an appointment up there. Even if you have neglected to go for years, they will welcome you with open arms, discuss what you need to do to get back to where you need to be, and help you achieve those goals!! Kudos to these ladies!!!
Who likes going to the dentist??? I do!!! Well, I do now since I found Downtown Dental… Dr. Hickey is exceptional, and her staff is so fun, friendly, and helpful! You have a wonderful team! I have had such a great experience with Downtown Dental being my new dentist. I have recommended you to everyone!! Three of my friends should be calling to make appointments very soon. Thank you very much for all that you do. I will be seeing you in about 2 weeks.
Two summers ago my son and family were traveling from southwestern Ohio to visit family in Indianapolis. They had been out of the country for a few years and had no doctor or dentist, and had no idea what to do when their daughter developed and abscess while traveling. My son called Dr. Marsha's office. Dr. Marsha's assistant called her at home — she was on vacation — and yet she came in to her office to take care of my granddaughter. She pulled a tooth and did a followup later on! I am thankful for Dr. Marsha's concerned care, even for a child she did not know.
Thanks for taking time with our daughter Delaney and for helping her first dental visit to be an enjoyable and fearless one! She'll keep brushing and flossing, and we'll see you in 6 months!
I have been a customer for many years, Dr. Hickey is very personable and professional, and all of her staff are very friendly and helpful. Mary Beth, my hygienist for over 40 years is so special. All the staff Tiffany, Sandy, Susan and Joy, are like family.
Downtown Dental is the best! Dr. Marsha Hickey is so friendly, and goes beyond the call of duty for her patients. She does not try to sell you anything. She will do everything she needs to do, but nothing she does not. Monica is the best hygienist I have ever had. She is so gentle and friendly. I look forward to going to get my teeth cleaned now! That says A LOT!! I highly recommend this practice. The staff is awesome.
I had a really good experience here. They managed to squeeze me in at the last minute one day. Prices are very reasonable and Dr. Hickey is super friendly. I plan to make this my new dentist and told my family + friends about it 🙂
Today was my first visit with Downtown Dental and all the staff were amazing! They were all friendly, quick, but thorough! They made my first visit very calming and welcoming and I will be coming back!
I've been going to Downtown Dental since 2009, Dr. Hickey and staff are the best of the best. Very professional and sincere. You are just a patient, you feel like part of the family! Very VERY Clean nice office! Highly recommend!
I have only had two amazing dentists before Relocating to Knoxville, now I can say three!! Downtown Dental is friendly, professional, clean and Dr Hickey is extremely dedicated and good at what she does!! I have been impressed time and time again! Everyone from the front to the back is genuine and friendly. They are busy (which is a good sign) But you never feel rushed! If you want a great dentist and a professional friendly vibe Downtown Dental is the place!
We Followed Monica over years ago when she went to work for Dr. Hickey. She has been epic and does a great job. Even when her patients are horrible like myself. I am terrified of people in my mouth. She is Gentle and Patient. She warns me when she is going to have to get more aggressive. We love Monica. Dr. Hickey too is aware of my issues and has been Kind and Gentle. She helped me get my first crown and has walked me through options on my ancient dental work from 30 years ago. I know I am in good hands here.
Dr. Marsha Hickey is a great dentist. I have been going to see her and Mary Beth the dental hygienist for years. Both are great. I Love going to see them Mary Beth cleans and Dr.Hickey does the rest. Dr. Hickey came in on Saturday where I had a cap come off and she didn't hesitate to tell me to come in and she would fix it temporary until Monday morning to set permanent. Dr. Hickey is great. I wouldn't go any where else.
I can't say enough positive things about Dr. Hickey and her staff (especially Sandy Kizer!). Dr. Hickey is kind, gentle, and sensitive to the fact that I am very skittish when it comes to dental work. She's fantastic!
Absolutely the best place I've ever been. And I've been to a few of them. I wouldn't be able to smile without Marsha and all of her staff. They simply are the nicest staff I've dealt with.
I have been fearful of dentist all my life. BUT, I must say this office staff and Dr. Marsha Hickey make a dental appointment like a day at the spa. I can say without hesitation " They are outstanding Professionals" in every sense of the word. You are seen promptly and greeted as a friend from the moment you are seen. If you have a dental issue, please call Downtown Dental first as they make you feel part of the family from the moment the phone is answered. Be sure and tell them Ann sent you.